Thank you for Purchasing our product! If you have any question about this item, such as missing pieces/ receive wrong item/ doesn't fit/ don't know where the liners go etc. , please feel free to email us by support@auovo.com.
***Extra pieces?***
We include extra pieces to fit all trim levels of the car, it is very possible you have extra pieces.
***Curled Mats? ***
During shipping, some liners may get slightly bent and not sit flat in the compartments. Usually, it will fix themselves over 1-2 weeks by being in a hot car. If you are in a cold climate you may need to use a hair dryer, wash the mat with warm water, or place them on your dashboard in the sun to fix the curling.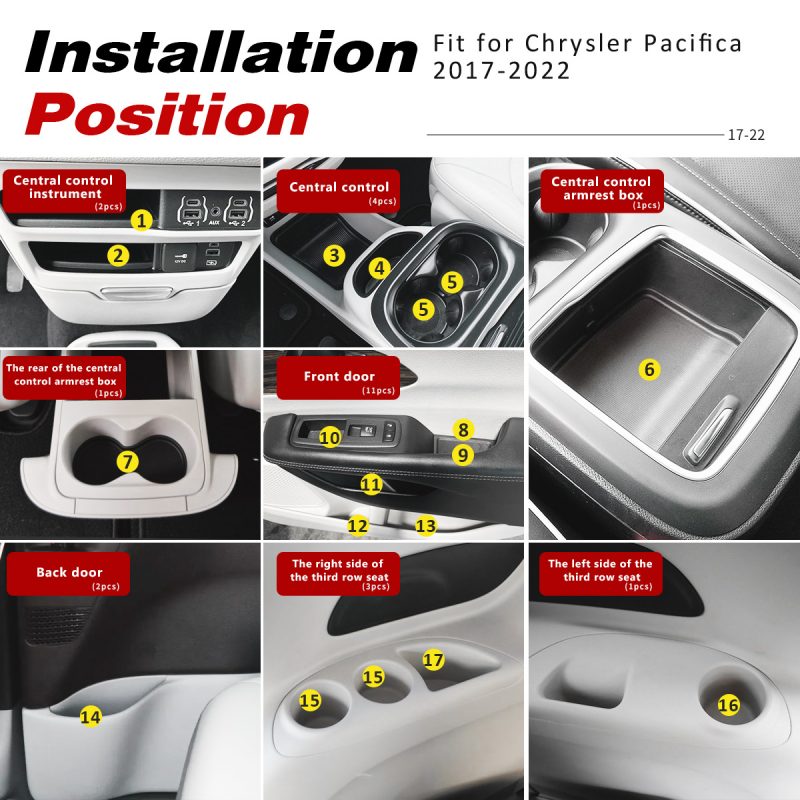 ►Fitment — Compatible with Chrysler Pacifica 2017-2022 Accessories Door Cup Arm Box Storage Mat Pad
►High quality latex rubber material — non-toxic, no smell, better soft, better texture, practical and fashionable.
►Practical and Anti-Skid — Can be placed in cup holders, door slots, center consoles, dashboards, armrest storage box, etc. These mats can decrease noise, keep the stuff in your car pockets to prevent items from moving during driving.
►Fashionable — Make your car more colorful, adding a style.
Easy to install — Just put the mats in the location position, friendly design for handling, easy to take and clean.
Package Include — 27PCS Door slot mats cup mat.